Description
ScrumMaster Training  
Dave Prior—Certified Scrum Trainer, leads the live online class, two-day learning experience. He is joined in our online classes by Jeff Howey and AJ Sanford.  In addition to the Scrum Alliance covered material, our team brings decades of experience to the class with thought provoking examples, discussion of real-world scenarios,  interactive exercises as well as examples and stories about what happens when you step out of the classroom and practice Scrum in the wild.
When Covid-19 necessitated that we move to live online training, LeadingAgile made a decision to set up all online training classes with a team of instructors to ensure that we are able to maintain the same level of interactivity in a virtual environment, while deepening our ability to connect with each student. Our live online training classes will always maintain a teacher to student ratio of (at most) 1 to 10. 
By the end of the class you will be completely prepared to  pass the CSM exam, not because you've memorized facts, but because you have internalized and practiced the concepts needed to successfully implement Scrum when you get back to work.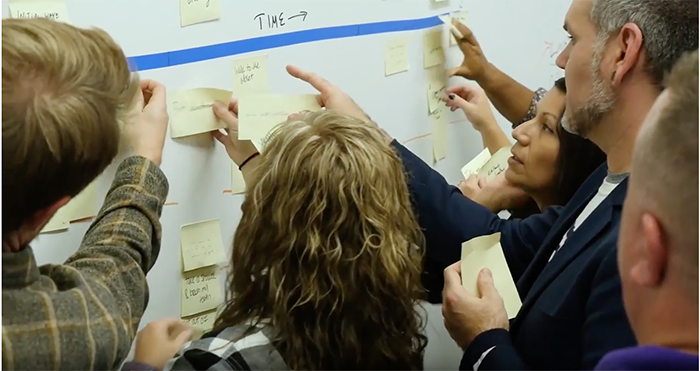 Use Scrum to Learn Scrum
CSM training is divided up into four Sprints in order to allow participants to fully immerse themselves in the Scrum framework. The learning modules for the course are listed in a Product Backlog which includes each Learning Objective (LO's) established by the Scrum Alliance for this class. Throughout the class students will be reviewing the LO's and be asked to accept them if they feel that the topic is complete. This is our way of QAing each topic and making sure that the participants know we have met the class Learning Objectives. In addition to this, the class includes many topics and exercises which are not listed in the LO's but are a big part of making sure that each participant leaves the class with tools and practices they can bring back to work and implement right away.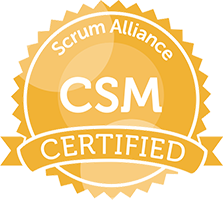 LeadingAgile ScrumMaster Training Includes:
Two year membership to the Scrum Alliance 
CSM Exam Fee 
Digital copy of the course materials 
Who should attend?
The ScrumMaster course is a great fit for anyone new to Scrum or who has been practicing it in the field and needs to reacquaint themselves with the Scrum framework. If you are coming from a traditional (waterfall) background, are skeptical about, or struggling with getting your head around Agile, this class is for you. With Dave's experience transitioning from traditional project management to Agile, he takes special care to try and pave an easier way for the participants who are struggling to adopt Agile. That intent, coupled with the experience of all three of our trainers in helping others make the journey into a new way of approaching work provide the framework in which we approach the topic of how to succeed as a ScrumMaster. 
Agenda:
This class covers all required material for CSM as well as some additional Agile topics that are beneficial to the conversation. The focus is on providing the participants with practical tools and techniques they can use in their work as a ScrumMaster. The primary topics are listed below. Participants will also have the option of adding topics of their own choosing, as time allows. This course covers all the content required for ScrumMaster Certification as defined by the Scrum Alliance here. 

Agenda includes (but is not limited to):
Agile Overview

Scrum Theory

Scrum Roles

Scrum Meetings

Scrum Artifacts

Definition of Done

Scrum Tracking and Reporting

Agile Facilitation

Agile Coaching

Servant Leadership

Coaching the Product Owner

Impediment Removal

Coaching the Organization
Notes:
If you have any questions about the course, please feel free to contact us via phone or email. We are always happy to talk to prospective students.
Class begins at 9 AM and will run until 5 PM both days

Participants will be expected to connect to the class via Zoom with video, which must be active throughout the class 

Participants are required to be fully engaged in all class activities in order to qualify for certification. Students who miss more than 1 hour of class time will not be eligible for the certification

Upon successful completion of the course, participants will be required to successfully complete the Scrum Alliance CSM Assessment test before receiving their certification. This is an online test you can complete when you are ready, it must be taken within 90 days of your class

Participants who complete this course qualify for 14 PDUs

Registration includes 2 year certification with Scrum Alliance
* Group, military, first responder, student and unemployment discounts are available. For more information contact LeadingAgile Training
FAQs
What's the refund policy?
If you are not able to attend the class you have registered for please send an email to training@leadingagile.com. If you send in your notification at least 14 calendar days prior to the start of the class you are eligible for a full refund or you may reschedule for a future class. Cancellations made 14 calendar days to 5 calendar days prior to the start of the class are eligible to reschedule for a future class or for a 70% refund. If you cancel within five calendar days from the start of a class, or if you do not attend the class, you will not be eligible for a refund or credit. Cancellation requests should be sent via email to training@leadingagile.com.
Date and Time
Location